ARTISTIC STORYTELLING THROUGH iPHONE PHOTOGRAPHY – Youth Workshop – led by Nick Kelsh
July 26, 2021 @ 8:30 am

-

July 30, 2021 @ 2:30 pm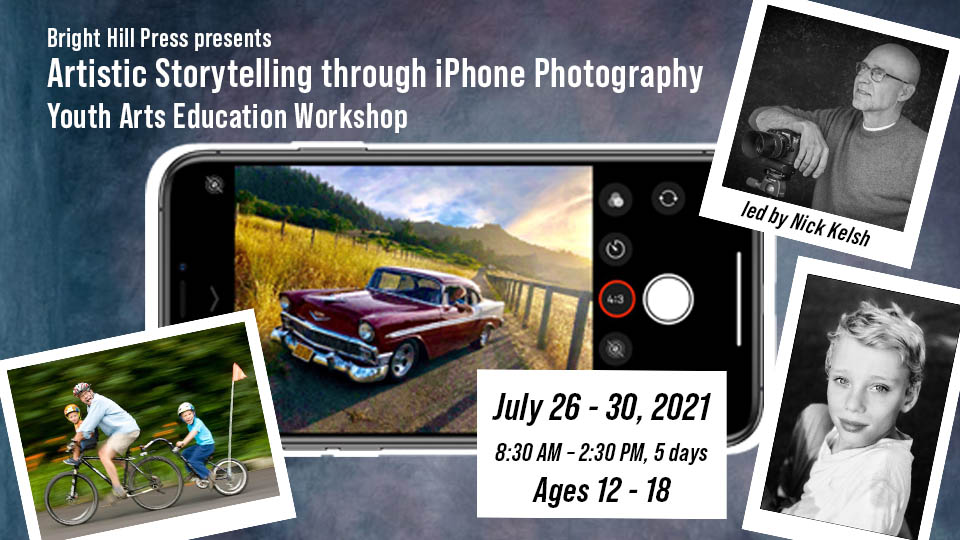 Registration form: https://brighthillpress.org/wp-content/uploads/2021/04/BHP-WKSHPS-REGIS-FORM-2021-SUMMER-KELSH.pdf
Purchase ticket here: https://brighthillpress.org/product-category/workshops/artistic-storytelling-through-iphone-photography/
Facebook Event: https://fb.me/e/HGu6DsBU
More info: https://brighthillpress.org/children-youth-programming
ABOUT the SUMMER WORKSHOPS
The In-Person, socially-distanced Workshops take place at Bright Hill Literary Center's Education Wing, 94 Church Street, Treadwell, NY. Space is limited, so early registration is advised (summer registration begins April 19 with a final deadline June 1; registration form is available on BHLC's website.
THE WORKSHOP takes place from 8:30 am – 2:30 pm, daily; Bright Hill will provide morning and afternoon snacks, but kids should bring their own bag lunches. YOUTH ages 12 – 18 are welcome. The workshops are designed and led by master teaching artist and world renowned photographer Nick Kelsh.
TO REGISTER, FILL OUT REGISTRATION FORM, EMAIL TO INFO@BRIGHTHILLPRESS.ORG, AND PURCHASE TICKET ON OUR WEBSITE.
OR MAIL REGISTRATION FORM TO BRIGHT HILL PRESS AT 94 CHURCH ST, TREADWELL, NY 13846 WITH PAYMENT INCLUDED.
We will study and learn about the stars and planets in our universe, including the related legends from Mayan, Aztec, Roman, Norse, Asian, Middle Eastern, and other cultures. Activities include a day trip to visit the A. J. Read Science Discovery Center and SUNY Oneonta Planetarium, and we will build our own universes and write our own legends. On the last day of the workshop, we will present an exhibit and program for parents and friends.
The cost is $160 for local students, $250 for out of town students, which includes morning & afternoon snacks (students bring their own lunch). (Delaware Academy students, full scholarships; full and partial scholarships for Delaware and Otsego County students).
July 26 – 30: ARTISTIC STORYTELLING THROUGH iPHONE PHOTOGRAPHY
TAUGHT BY NICK KELSH
8:30 am – 2:30 pm, 5 days, Ages 12-18
Bright Hill offers its first ever "Artistic Storytelling through iPhone Photography" program with Nick Kelsh, July 26 – 30, 2021, daily, led by master teaching artist and world renowned photographer Nick Kelsh. The program is limited to 16 students.
The workshop instructor is photographer Nick Kelsh, who's authored/photographed 9 books, taught thousands of amateur photographers in his online photography courses and live workshops, and has been featured multiple times on Oprah and The Today Show. Nick lives in Treadwell, NY.
WORKSHOP DESCRIPTION ​
We all know that the best camera is the one that's with you! We're constantly taking iPhone photos to share the many worlds we live in with the people we love, but in this workshop we'll stretch technically, creatively and artistically so your photography becomes a life-enriching channel for self-expression. This workshop will help you take your photos from commonplace snaps to extraordinary images that stand out and reveal something about you and how you relate to your world.
We'll start off with the fundamental concepts of basic photography, then delve into the features and capabilities of the iPhone camera specifically,
We'll cover portraits, self-portraits, group shots, landscape and nature photography, plus storytelling through multiple images. Finally, we'll consider the value of words and pictures together to create an important third effect when sharing photographs.
The photo assignments will get you outside exploring the natural world in summertime—good for you mentally and physically—and the iPhone is a perfect tool for documenting our beautiful planet. The workshop will increase your understanding of your iPhone camera technically and creatively, resulting in memorable, meaningful photographs. The skills you acquire in this workshop will keep giving for a lifetime, regardless of the photographic hardware that may come our way, and your improved photography skills can add value to many activities and projects you'll pursue in school and extracurricular activities. This workshop will enrich your body and soul, build your confidence, spark your imagination, hone your artistic eye and, above all, be fun.
We'll have daily lessons, online videos, photo-assignments, personalized instructor feedback from Nick, Q&A sessions, live office hours, daily review of class assignment photos, streamed virtual exhibit for parents on final day.
The work created during the workshop will be exhibited in The Word and Image Gallery at Bright Hill and will be available for purchase. On the final day of the workshop, we will stream the exhibit on zoom for parents and students.
Nick Kelsh is a renowned photographer and author of nine books, including the bestselling Naked Babies and Siblings (co-authored with Pulitzer Prize winning writer, Anna Quindlen) and three how-to books for amateurs, How to Photograph Your Baby, How to Photograph Your Family and How to Photograph Your Life. He has appeared on Oprah and The Today Show, and has been featured in Time, Life, Newsweek, National Geographic, The New Yorker, Forbes, and Fortune. He illustrated Rachel Carson's classic The Sense of Wonder, and wrote and photographed two gift books: How to be Santa Claus and How to be Dad. He also wrote the popular column Great Shots for Creative Memories' Lasting Moments magazine. Nick's passion for teaching and helping others, knack for creatively delivering photography instruction in easily digestible bites, and inspiring, entertaining style make learning photography easy and fun on his HowToPhotographYourLife.com website and Facebook Page, and in his popular online courses and live workshops throughout North America.