FLORA: AN EXHIBITION CELEBRATING COLLABORATION ANN MCGARRELL, POET; JACK BEAL, ARTIST; & WALTER HAMADY, BOOKMAKER
May 7, 2017 @ 3:00 pm

-

5:00 pm
JACK BEAL, FRANKLIN, NY VISUAL ARTIST (DEC.) ANN MCGARRELL, NYC, NY POET (DEC.) WALTER HAMADY, MADISON, WI BOOKMAKER SONDRA FRECKLETON, FRANKLIN, NY VISUAL ARTIST
With the presentation of the resulting limited edition book,Flora., to Bright Hill Press & Literary Center.
The exhibition will show related works on paper by Sondra Freckelton and Jack Beal, and with framed trial proofs of the illustrated poems.
Exhibit runs May 7 – May 26.
EXHIBIT HOURS:
Monday: 10 – 4
Tuesday: 10 – 4
Wednesday: 9 – 12
Exhibit available to view every second Thursday of each month during Word Thursday Readings: 7 – 9PM
Weekends by appointment.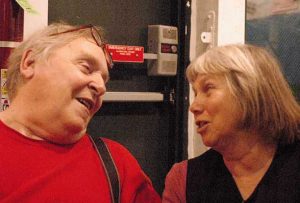 (Pictured above: Jack Beal and Sondra Freckleton)
Jack Beal was born in Richmond, Virginia in 1931. He studied at the Norfolk Division of the College of William and Mary and the School of the Art Institute of Chicago. A grant from the National Endowment for the Arts in 1972 underscores his long list of accomplishments. The Art Institute of Boston awarded Beal an honorary Doctorate of Fine Arts in 1992 and in 1994 Hollins College in Virginia awarded him a Doctorate of Humane Letters. The American realist painter has lectured at over 100 schools, universities and museums, including University of Indiana, Purdue University, University of Wisconsin and Cooper Union. Beal lives and works in New York City and Oneonta, New York. Beal is best known for his paintings, murals and fine draftsmanship. In the early 1960's, he courageously renounced abstract expressionism for realism. He is among the diverse painters of "New Realism" who arose during the late 1960's. He is more closely aligned to Philip Pearlstein and Alfred Leslie than to the Photo-Realists.
Particularly noteworthy are his compositions of the figure in interior environments filled with complex patterned fabrics, diagonal thrust and a point of view slightly below eye level. Publications that document his evolution as an artist include Eric Shanes' monograph Jack Beal, 1993; John Arthur's Realists at Work, 1983; and Mark Strand's Art of the Real, 1983. More than fifteen solo exhibitions at Allan Frumkin Gallery, Frumkin/Adams Gallery, and George Adams Gallery in New York and Chicago, as well as numerous international group exhibitions, have celebrated Beal's work since 1965. Four murals on The History of American Labor are among his national commissions. It took nearly three years to paint them. When they were complete in 1977, they were installed in the Department of Labor Building in Washington, D.C. In New York, Beal is represented in the prestigious collections of the Metropolitan Museum of Art, Whitney Museum, Museum of Modern Art, and the Neuberger Museum. Other museums that include Beal in their collections are the Art Institute of Chicago; Museum of Modern Art, San Francisco; National Gallery of Art, Washington, D.C.; Philadelphia Museum of Art; and Walker Art Center, Minneapolis. Brunswick Corporation, Ciba-Geigy Corporation, and Philip Morris Collection are among his patrons. More recently he has completed two mosaic murals for the Times Square Station of the New York subways. In 1995, Beal collaborated with Stewart & Stewart to do a screenprint. Tulip Angélique was drawn en plein air by the artist in the pink border garden of the Stewart's terrace, not far from their Bloomfield Hills, Michigan studio. The gracefully simple composition of Tulip Angélique vacillates between abstraction and realism. It is characteristically Beal — a point of view slightly below eye level, articulate contour lines and dynamic diagonal thrust. 
Sondra Freckelton was born in Dearborn, Michigan in 1936 and studied at the School of the Art Institute of Chicago. She began her career as a sculptor working in wood and plastics, exhibiting under her married name, Sondra Beal. She debuted at the Museum of Modern Art in the "Recent Sculpture U.S.A." show in 1959 and achieved her first one-man show at the Tibor de Nagy Gallery in 1960. During the mid-1970's Ms. Freckelton was one of several noted abstract artists who turned to realism in their work. She began working in transparent watercolor-a logical extension of the delicate watercolor studies she had done for her transparent vacuum-formed sculptures. She had her first solo show of large-scale color saturated watercolors with the Brooke Alexander Gallery in 1976. Numerous museums, galleries and traveling shows throughout the United States have exhibited her watercolors. She has had solo exhibits at major galleries in New York, Chicago, Washington, D. C., and San Francisco. Some of the public collections that include her work are the Art Institute of Chicago; Dennos Museum, MI; Kalamazoo Institute of Arts, MI; Madison Art Center, WI; National Museum of American Art, Washington, DC; Virginia Museum of Fine Arts, VA; Oklahoma City Museum; and Oglethorpe Museum, GA. Ms. Freckelton's work and teaching philosophy are the subjects of the Watson-Guptill publication entitled Dynamic Still Lifes in Watercolor by M. Stephen Doherty.
Some other publications that include her work are Contemporary American Realist Drawings, Hudson Hills Press, 1999; American Watercolor, by Chris Finch, Abbeville Press, 1986; and The Art of Watercolor, by Charles LeClair, Watson- Guptill, NY, 1994. Sondra Freckelton lives and works near Oneonta, New York at the home and studio she and her late husband, Jack Beal, built. 
Walter Hamady (born September 13, 1940) or, in full, Walter Samuel Haatoum Hamady, is an American artist, book designer, papermaker, poet and teacher. He is especially known for his innovative efforts in letterpress printing, bookbinding, and papermaking. In the mid-1960s, he founded The Perishable Press Limited and the Shadwell Papermill, and soon after joined the faculty at the University of Wisconsin–Madison, where he taught for more than thirty years. On his father's side, Hamady is descended from Lebanese Druze immigrants who founded a prominent grocery store chain in Flint, Michigan. His mother was an Iowa-born physician (a pediatrician and, later, a psychiatrist). His parents' marriage fell apart during Hamady's childhood, resulting in his being raised by his mother, with the support of his paternal grandfather (his beloved Jidu (grandfather)), Ralph Haatoum Hamady, whom Hamady has described as "a wonderful man [from Baakline, Lebanon] who came to America as a teenager in 1907″.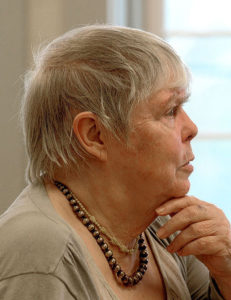 Ann McGarrell answers a question during an interview in Lebanon, N.H., on Oct. 3, 2011. (Valley News – Jennifer Hauck)Copyright © Valley News. May not be reprinted or used online without permission. Send requests to permission@vnews.com.
Ann McGarrell spun her surroundings into verse. Everyday life, politics, personal tragedies and even roadway accidents found their way into her poems. Wife to the accomplished painter and printmaker James McGarrell, she was a noted translator, having won in 1997 the prestigious PEN Renato Poggioli Prize for her version of Vittoria Ronchey's Il volto di Iside (The Face of Isis). After high school she enrolled at Occidental College in Los Angeles, and in 1953, she graduated and became a story editor at the movie production company C.V. Whitney Pictures. Her husband's career took them across the United States and several other countries. Ann and James McGarrell lived in Oregon, then Indiana, then St. Louis, and finally in Newbury, NH. She died in 2016.