The Nick Kelsh iPhone Photography Workshop…for Grown Ups 
September 17, 2021 @ 5:30 pm

-

September 19, 2021 @ 5:00 pm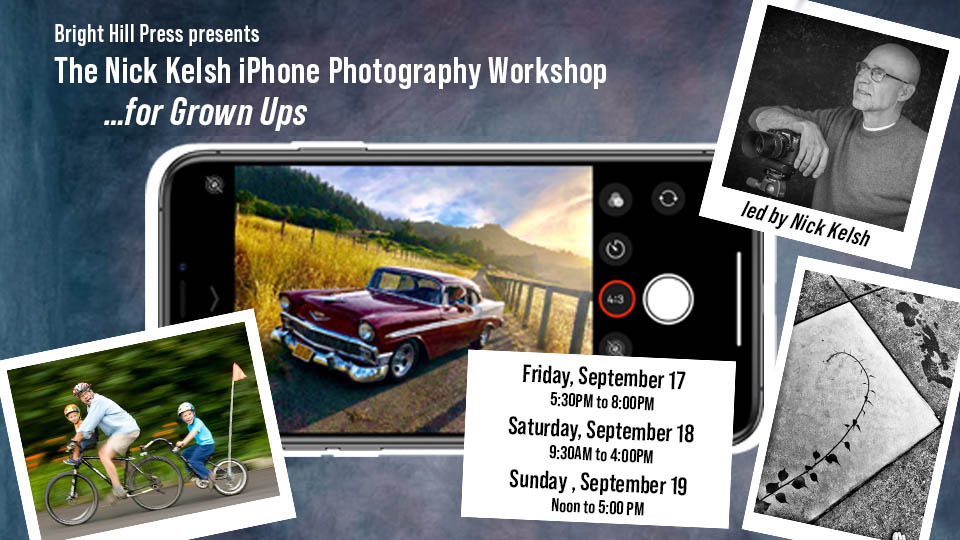 Workshops Dates: 
Friday, September 17 / 5:30PM to 8:00PM
Reception, opening remarks, preparation for all-day Saturday workshop)
Saturday, September 18 /  9:30AM to 4:00PM
Shoot, edit, group instructionals. Curriculum will be reviewed Friday evening. 
Sunday , September 19 / Noon to 5:00 PM
One-on-ones scheduled with Nick
Workshop Description:
We will talk about and practice composition, lighting, exposure, group shots, portraits, storytelling, all important editing and the very best way to share your photographs, which after all, is what this is all about.
Also, the iPhone is probably the most fun camera ever invented which is one of the reasons that this workshop is so much, well, FUN!
Thirty minute one-on-one sessions with Nick: these are by appointment only – Nick will talk about anything related to photography you wish to further explore.
And yes, you can bring your big girl / big boy camera and spend the whole time talking about f-stops, shutter speeds, and ISO settings. If there's a better way to learn the basics I haven't seen it, he said modestly.
Very simply, you will be a better photographer at the end of this weekend.
For more info: https://brighthillpress.org/adult-programming/
Ticket Link: https://brighthillpress.org/product/nickkelshforgrownups/
FB Event: https://fb.me/e/1HSpL0eez
Registration Fee:
Early Bird Fee: $349
Book between August 2 and August 15
Regular Fee: $449
Book after August 15
TO REGISTER, purchase tickets here and email your info to info@brighthillpress.org
About Workshop Instructor:
Nick Kelsh is a renowned photographer and  author of nine books, including the bestselling Naked Babies and Siblings (co-authored  with Pulitzer Prize winning writer, Anna Quindlen)  and three how-to books for amateurs, How to Photograph Your Baby, How to Photograph Your  Family and How to Photograph Your Life. He has  appeared on Oprah and The Today Show, and has  been featured in Time, Life, Newsweek, National  Geographic, The New Yorker, Forbes, and Fortune. He illustrated Rachel Carson's classic The  Sense of Wonder, and wrote and photographed two  gift books: How to be Santa Claus and How to be  Dad. He also wrote the popular column Great Shots for Creative Memories' Lasting Moments magazine.