"So, You Think You're Funny: Let's Write It" – COMEDY WRITING WORKSHOP LED BY SU YATES
August 1, 2021 @ 3:00 pm

-

5:00 pm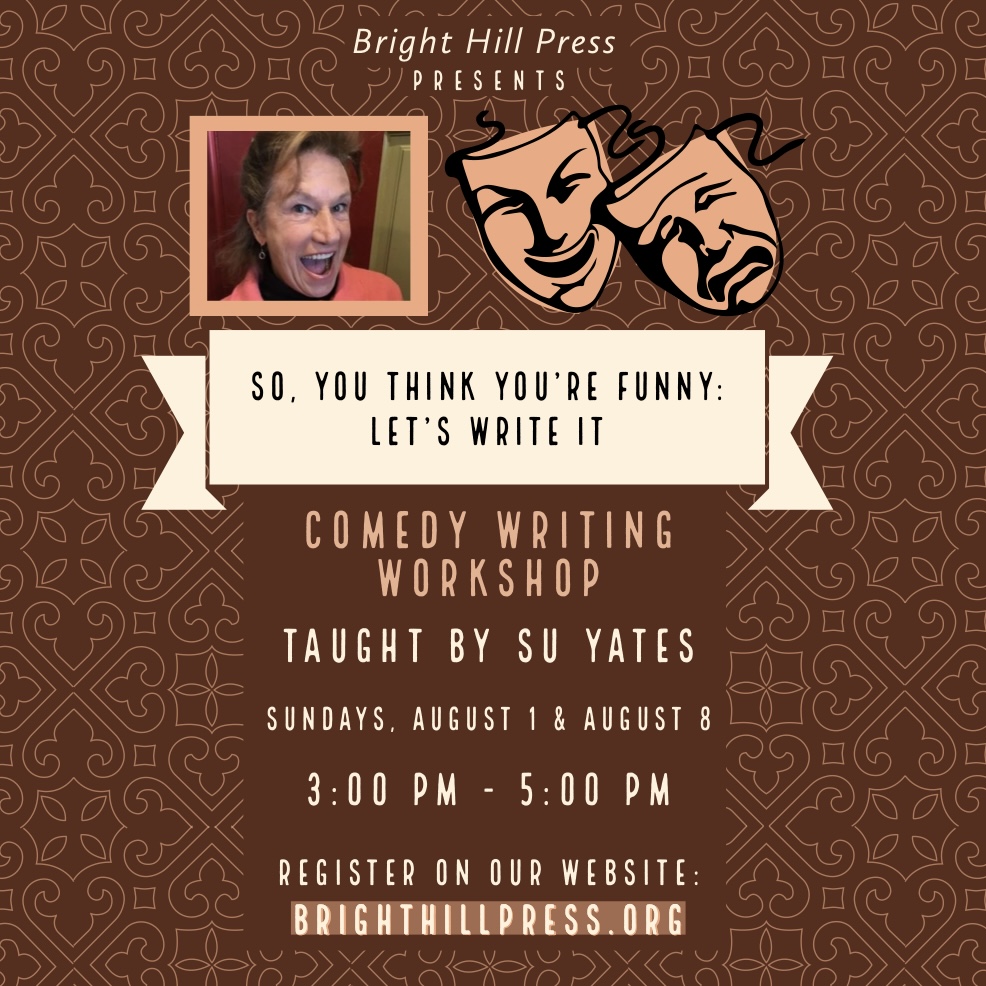 "So, You Think You're Funny: Let's Write It"
COMEDY WRITING WORKSHOP LED BY SU YATES
Workshop Sessions:
Sundays, August 1 & August 8
3:00-5:00 PM
Reception:
Sunday, August 8 after workshop
Description:
This comedy writing workshop, taught by Su Yates, will cover topics such as: a brief history of comedy, the different types of comedy writing with examples of each type (performed live with social media), and breaking down how to write comedy (choosing a premise, different styles for different types, keeping it interesting and to the point). Assignments will be written in class and have a week to revise and bring back to the class.
After the workshop on August 8, there will be a staged reading of students and a reception, "Sunday Brunch Laughter." The reception will take place outdoors in Bright Hill's beautiful garden with a microphone.
Workshop Fee: $20 
Open to all ages
To register, email Bright Hill Press at info@brighthillpress.org and purchase ticket here: https://brighthillpress.org/product/comedy-workshop-registration/
For more info: https://brighthillpress.org/adult-programming/
FB Event: https://fb.me/e/8dKStBofo
Purchase Ticket here: https://brighthillpress.org/product/comedy-workshop-registration/
Su Yates was born in Buffalo, N.Y., but managed to overcome that adversity to rise to stellar heights of mediocrity in writing, performing, dancing and comedy. She has appeared in comedy clubs around the country first doing improvisational comedy and then stand-up comedy. She began her underwhelming career by writing and performing solo and ensemble comedy sketch pieces, her preferred comedy style. More recently, Su has been writing and performing stories and Spoken Word pieces.  She is working on her autobiography, "Memoirs of an Insignificant Baby Boomer." She performed improv and stand-up comedy in Honolulu, Hawaii, for several years and in another international hub, the Oneonta and Delaware County area of New York State. She has attempted to dazzle crowds in Palm Springs, Berkeley and Bishop, California; Sarasota, Florida; Portland, Oregon and a slew of misbegotten locations. Su has also studied and performed Brazilian dance, clog dancing, Irish dancing, taiko drumming and hula. In addition to a fitness regimen, this allowed her to develop a physical style of comedy embellished by accents and physical characteristics from different cultures. Su attributes much of her skill to studying character development with Lanny Harrison of West Kortright Centre. Incredibly, Su has a master's degree in Public Health and a Bachelor's degree in Community Health Education. She has worked seriously in this field in Hawaii and New York.  Most recently, she is developing her own grant writing business.