WORD AND IMAGE GALLERY EXHIBIT OPENING – BELASKI & THOMAS, AND JANE HIGGINS APRIL 15-27
April 15, 2018 @ 3:00 pm

-

5:00 pm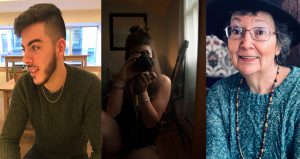 Danielle Thomas (Long Island, NY) is a student at The State University of New York (SUNY), College at Oneonta. She is finishing up her BS in Computer Art and will be graduating in May 2018. Danielle was recently awarded the Jean Parish Scholarship for Art Award. This competitive scholarship was only awarded to a small number of applicants that were carefully reviewed and selected by a jury of Art professors. The committee noted her excellent progress as a student, artist, and as a vibrant member of our creative and academic community. Danielle has also been featured in the Annual Student Art Show multiple times and has qualified for the Dean's and Provost List. Danielle is originally from Long Island and looks forward to pursuing a career in the design industry back home or in NYC.
Brandon Belaski (Oneonta, NY) is a student at The State University of New York (SUNY), College at Oneonta. He is pursuing a BS degree in Computer Art. Brandon's commencement is in early May 2018. Focusing mainly on User Interface design, Brandon creates mobile app designs as well as websites. He and his partner, Danielle Thomas, were awarded the Martin-Mullen Art Gallery exhibition in Fall 2017, where he showcased his work by way of hands-on interaction with the viewer. Users were able to scan QR codes to view mobile websites as well as mobile mockup apps.
Danielle and Brandon are former advanced web design interns at Bright Hill. They most recently exhibited their work in a group show titled Designing for User in the Martin-Mullen Gallery.
Jane Higgins (Gilbertsville, NY): Jane was born and raised in Sidney, in Upstate NY. She began drawing at an early age due to the influence of her mother, portrait artist Louise Higgins. She majored in fine art at SUNY Oneonta, studying drawing, watercolor painting, oil painting, and printmaking. She also studied art history, sculpture, and fresco painting at the University of Siena, Italy. After receiving her BA in 1980, she relocated to Southern California, where she pursued a career in graphic art and typography. In 1994, she and her late husband, Albert Caranci, moved back to upstate NY, eventually settling in Gilbertsville. From 1998 through 2010, she operated an art gallery out of the studio in her carriage barn. In 1993, during a bout of unemployment, she began to experiment with collage. She began by piecing together items from packages her mother had sent over the years: autumn leaves, pressed flowers, bird feathers, photographs, and newspaper clippings. Then she began to incorporate images she had cut out of magazines and calendars. She found this previously unexplored medium completely absorbing and intensely therapeutic. Collage allows her to express her unique artistic vision in a way that no other medium ever has. She is fascinated with finding new meanings through the unexpected juxtaposition of images into new compositions. She experiences self-discovery by sorting through levels of meaning in images through free association. Jane believes that art should be fun, so humor is an important aspect. Part of the joy of collage occurs when one compositional idea will "morph" into an entirely new direction. Inspiration for her work draws on Greek myths, the Bible, fairy tales, Shakespearean plays, modern life, and autobiographical elements. She has shown her award-winning collages in galleries throughout the region, including three solo exhibits at the Art Mission in Binghamton; Bright Hill, Treadwell; and the Chenango County Council of the Arts. Her work has also been shown at the Cooperstown Art Association, the Smithy-Pioneer Gallery, The Roxbury Arts Group, the Kirkland Art Center, Clinton; and at the Kubiak Gallery, UCCCA, in Oneonta; and is in private collections in NY, Los Angeles, Seattle, St. Louis, Las Vegas, and Paris, France.
 $3 suggested donation. Students are free.