WORD THURSDAYS – BLACK HISTORY MONTH FEATURING JEFFREY COLVIN
February 25 @ 7:00 pm

-

9:00 pm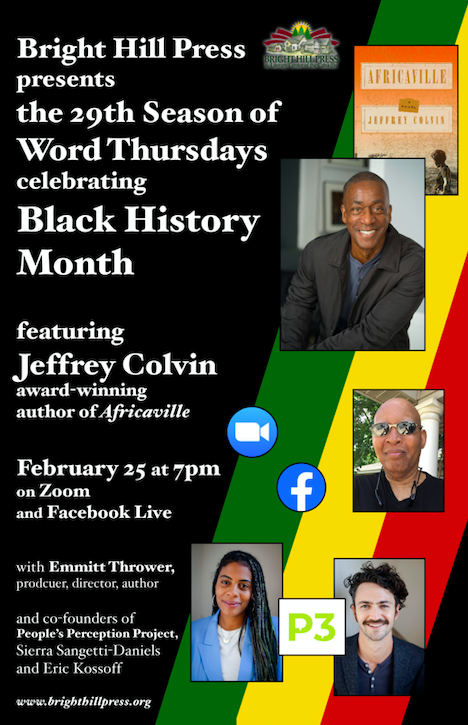 WILL BE BROADCASTED ON ZOOM AND FACEBOOK LIVE
Zoom Link: https://us02web.zoom.us/j/84488608758
Jeffrey Colvin's debut novel, Africaville, was awarded a 2020 Honor Fiction Prize by the Black Caucus of the American Library Association and a Hurston Wright Legacy Award. Africaville has been featured in Publishers Weekly, NPR, the Boston Globe, the BBC, the CBC, The Globe and Mail, and elsewhere. A graduate of the US Naval Academy and Columbia, Jeffrey is an assistant editor at Narrative magazine and was recently the Hodson Trust-John Carter Brown fellow at Brown University. He is also a 2020 Hurston/Wright Legacy Award winner in debut fiction. 
Word Thursdays Celebrating Black History Open Mic Features 
Emmitt Houston Thrower (Bronx, NY) Emmitt, a member of the Actor's Equity Association (AEA), began acting in 1989 and has performed the role of Duke Sr. in Shakespeare's As You Like It, and many historical figures such as Jesse Jackson, Muhammad Ali, Paul Robeson and Jackie Robinson. In 2005 he founded his not-for-profit production company Wabi Sabi Productions Inc in the Bronx, NY. He wrote and produced numerous plays and events including off off Broadway plays Katrina: A Whole Lot of Water, a hip hop multimedia musical that he also performed in. Emmitt has filmed and produced many noteworthy interviews. One was of Mobile Alabama born writer, producer, director and the founder of New Federal Theater in NYC, Woodie King. Woodie King Jr. was an important part of the Black Arts Movement from 1965-1975. He has been called the "king of black theater producers". Another of Emmitt's filmed interviews received over 750,000 views on Youtube. It was a series created with now deceased humanitarian, activist, comedian, and author Dick Gregory in Washington DC in 2007. Emmitt produced and directed many films including his award winning independent film documentary Where is Hope: The Art of Murder released in 2015. His most recent short films in 2020 include Silent Sellers, about street vendors in NYC, and a collaborative docu-film with Jana Hunterova, an award winning photojournalist from Prague on her visit to NYC, titled New Borning about her desire to visit the Bronx and explore it for herself. In 2021 Emmitt released his short film titled Disability and Cultural Activism featuring disabled San Francisco poet/activist Leroy Moore Jr., founder of Krip Hop Nation. Nearing completion is his short documentary film entitled It's Only a Number: The Abraham Journey featuring Apostle Dr. Heloise Sulyans-Gibson exploring her relocation to Billings, Montana. Emmitt is a contributing author in the published research book titled Occupying Disability: Critical Approaches to Community, Justice and Decolonizing Disability. The publication includes an original poem by Emmitt around the issue, as well as his perspectives based on his experience as a disabled artist and former NYC police officer. Emmitt was the Chairman of Castillo Theater's Otto Awards for Political Theater for more than 15 years. The award was named after Guatemalan poet, activist, guerilla fighter and revolutionary Otto René Castillo (1934–1967).  Emmitt was awarded the Independent Spirit Award in culture by the Castillo Theater. He is a recipient of the Katrina award (theater) and a BRIO award. Emmitt is also an Access Producer for Bronxnet public access Television in the Bronx. 
Sierra Sangetti-Daniels is a journalist and co-founder of People's Perception Project (P3). Sierra believes representation is the first step towards an equitable media system, and uses networking to bring representative voices into traditional newsrooms. Sierra uses her voice to stand up and speak out against injustices when she sees them, and is proud to bring that purpose into her work with P3. 
Eric Kossoff is an educator and co-founder of People's Perception Project (P3). Eric is passionate about integrating social justice activism into everyday learning, and works to elevate networking skills in classrooms across the country. Right now, Eric is building networking tools and resources to disrupt white dominant culture in newsrooms, classrooms and communities with P3.