Word Thursdays ONLINE – Alicia Ostriker
April 9 @ 7:00 pm

-

9:00 pm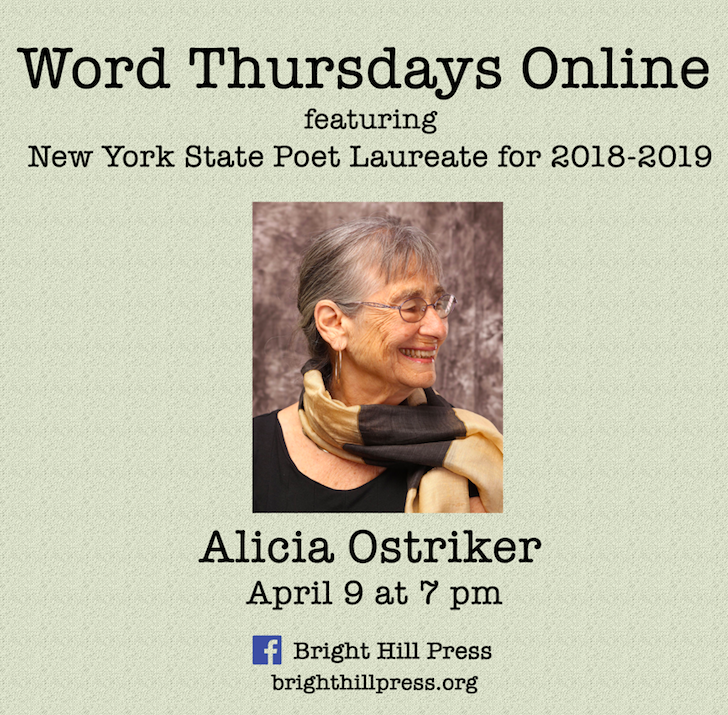 April 9, 7 PM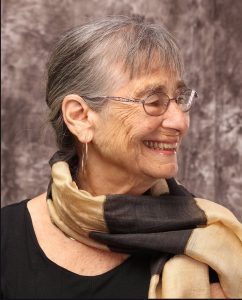 Alicia Ostriker
New York State Poet Laureate for 2018-2019 Alicia Ostriker will open the 28th season of Word Thursdays, presented by Bright Hill Literary Center of the Catskills, on April 9 at 7 pm. The reading will take place online, on April 9 at 7pm, broadcast on the Bright Hill Press Facebook page.
Word Thursdays Online will begin with an "open mic," during which prerecorded poets will share one poem. Instructions on how to join the Word Thursdays Online Open Mic Series can be found here: https://www.facebook.com/groups/257378611967354/
Word Thursdays will be presented online by Bright Hill every second and fourth Thursday of the month until further notice.
Alicia Ostriker, Academy of American Poets Chancellor, was named the 11th New York State Poet in history by Governor Andrew M. Cuomo in 2018. She received the New York State Walt Whitman Citation of Merit for Poets and succeeded Yusef Komunyakaa. A poet and critic, Alicia has published sixteen volumes of poetry, including Waiting for the Light (2017), which received the National Jewish Book Award, The Book of Seventy, which received that award in 2009, The Old Woman, the Tulip, and the Dog (2014), The Book of Life: Selected Jewish Poems 1979-2011; and No Heaven (2005). Her 1980 feminist classic and anti-war poem sequence, The Mother/Child Papers, was recently reprinted by the University of Pittsburgh Press. The Volcano Sequence, a volume of spiritual quest and questioning, wrestles with Jewish traditions. Twice a National Book Award Finalist, for The Little Space (1998) and The Crack in Everything (1996), and winner of the William Carlos Williams Award for The Imaginary Lover, Ostriker is known for her intelligence and passionate appraisal of women's place in literature, and for investigating themes of family and sexuality, politics, religion, Jewish identity, and celebration of city life. Ostriker's poetry is at once moving and new, because it touches old and deep knowledge, and also opens the heart and mind again. Or, as Joan Larkin puts it, "In a voice absolutely her own —
wild, earthy, irreverent, full of humor and surprise — Ostriker takes on nothing less than what it feels like to be alive."
Ostriker's critical work includes the now-classic Stealing the Language: the Emergence of Women's Poetry in America, and other books on American poetry from Walt Whitman to the present. She is also the author of critical books on the Bible, including the controversial The Nakedness of the Fathers: Biblical Visions and Revisions, a combination of midrash and autobiography. Her newest prose work is For The Love of God: the Bible as an Open Book, of which Elaine Pagels writes, "No one who reads this amazing, brilliantly written book will ever read the Bible the same way again."
Her poetry has appeared in The New Yorker, American Poetry Review, The Atlantic, Paris Review, Yale Review, Ontario Review, The Nation, The New Republic, Best American Poetry, The Pushcart Anthology, and many other journals and anthologies, and has been translated into numerous languages including Hebrew and Arabic. Ostriker has performed her work widely in the USA, and has performed, lectured, and led workshops in England, France, Italy, Israel, Japan, and China. In 2015, Ostriker was appointed a Chancellor of the Academy of American Poets. In 2018, Everywoman Her Own Theology, a volume of essays on Ostriker's poetry, is forthcoming from the University of Michigan Press.
Ostriker lives in New York City, is Professor Emerita of English at Rutgers University, and teaches in the low-residency Poetry MFA program of Drew University. She says, "If I did not have teaching to do, I would not recognize myself."
For more information, please contact Bright Hill by emailing us at [email protected] brighthillpress.org or calling 917-532-8652.