WORD THURSDAYS FEATURING RANDOM ACTS OF KINDNESS JOURNAL WRITERS (ANDES CENTRAL SCHOOL) & THE KINDNESS IS CONTAGIOUS PROJECT
September 23, 2021 @ 7:00 pm

-

9:00 pm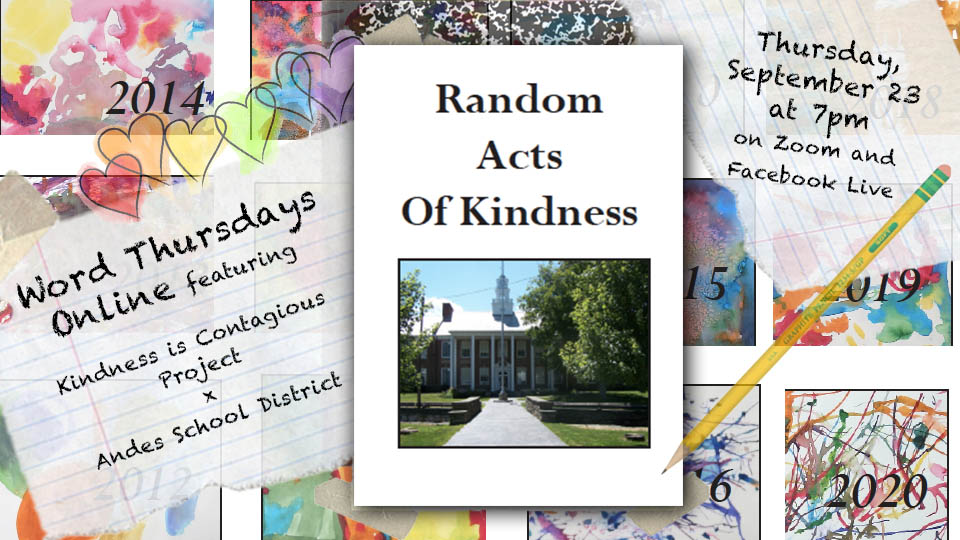 In February 1999, Jennifer Finkle, a teacher at Andes Central School (1990 – present) wrote on the first page of an empty journal: Kindness Chain Key: 
Remember, you as a human being are very powerful; remember, challenges teach us
about the elasticity of the human spirit. Use this journal to record a random act of
kindness that you do for someone else. Pass the journal to the recipient and ask them
do the same. I hope you'll be surprised to see how good random kindness can feel and
hope it will continue within our school community.  
The first of hundreds of entries by faculty and staff followed, filling two large journals by 2019. Finkle had been inspired by an episode of the Oprah Show during which Oprah spoke of random kindness and how it can be just as fulfilling to the giver as it is to the receiver. The journals contain small, heartfelt, and uplifting acts of random kindness in written form. A retired administrator received the book and was so moved that he encouraged Finkle to get it published as "a lasting tribute to our unique school and all the people who work so hard to make Andes Central School such a special place." 
Finkle partnered with Bright Hill Press to begin planning for the publication and circulation of The Andes Central School Faculty and Staff Kindness Journal, as well as the partner program "Kindness is Contagious Project." Bertha Rogers, Editor-in Chief, is editing the manuscript and Beatrice Georgalidis, Executive Director, is producing the project and promotional campaign with associate producer Sophie Bille.
(500) copies of the Andes Central School Faculty and Staff Kindness Journal will be printed; one copy will be mailed to each of the 46 schools in the Delaware County and Otsego County BOCES school districts as well as a blank journal and a letter detailing the "Kindness is Contagious Project."  The hope is that every school will begin their own kindness journal and archive the kindness of their respective faculty and staff for years to come. A video, email, and social media campaign
Jennifer L. Finkle (1/19/68) was born in Southampton, NY (zip code 11968), where her father was a NYS Conservation Officer and her mother worked at Southampton College.  They moved to Andes, when her father transferred to the NYS Police. She was 3 years old.  At 5 years old, Jennifer was enrolled at Andes Central School.  She attended there for grades K-12 and graduated as the salutatorian in 1986.  She feels that Andes was a great place to go to school.
Jennifer's next step was to attend college at SUNY Cobleskill where she received an associate's degree in nursery education.  After receiving the associate's degree, she went on to obtain both a bachelor's degree and a master's degree in elementary education, from SUNY Oneonta.  Jennifer began teaching in Andes right after obtaining the bachelor's degree and taught while working in the master's degree program.
Jennifer is presently in her 31st year of teaching.  She has taught grade 1 as a stand-alone class, a 1-2 combined class and this year a K-1 combined class. In addition to the regular teaching assignment, Jennifer also runs the after-school/summer CROP Program. She says that Andes is a great place to go to school.
Jennifer will be eligible to retire in 2 years, upon reaching the age of 55.  When that time arrives, she will have spent around 45 years of her life receiving or giving education at Andes Central School. She thinks A.C.S. is a great place to be.
Jennifer married her junior high-school sweetheart, Dwayne and they have a beagle named Daisy.  In their spare time they manage a small farm business.  They have 30 colonies of bees for honey sales, laying hens for egg sales, shiitake mushrooms growing in the woods in the summer for farmer's markets, turkeys for Thanksgiving and a huge garden. During the pandemic they were able to finish an outdoor wood-fired pizza oven, complete with discarded slate roof tiles from Andes Central School, in which they make prebaked pizza crusts for the markets. Jen's Jam and Jelly business has also taken off, so many hours are spent picking fruit and making jam and jelly.  
Hunting, fishing and foraging wild mushrooms are more favorite activities of theirs. They feel it is rewarding to be able to catch, harvest, and process their own food knowing the health benefits of clean eating.  It also gives them the opportunity to share resources with others.
Andes is a great place to live, according to Jennifer.