Beatrice Georgalidis
Executive Director
Georgalidis has worked in film and television for ten years, producing commercials, films and live-television events for Sundance Channel, MTV, VH1, and more. She is a writer educated at Tisch School of the Arts Dramatic Writing Program, and has a Bachelor of Science Degree in Mass Communications from SUNY Oneonta where she was honored as Best and Brightest in 2014. Her professional history includes managing The Players Club, a private estate on Gramercy Park where she produced large-scale events for clients like George Clooney and Disney, as well as extensive work in Los Angeles with best-selling author and congressional candidate Marianne Williamson, and the post-production team at USA Films. While at Cornell Medical College for a four-year term, she served as Administrative Coordinator of the Department of Microbiology and Immunology (on the forefront of AIDS, cancer and tuberculosis research), where her career as a grant writer began. In 2012, she founded her multidisciplinary company Certain Grants. She has worked with over forty clients writing grants, producing advertising and fundraising campaigns, and creating digital content. She has been published in Oprah magazine and is the recipient of numerous writing awards. Contact: (w) 607-829-5055;  or beatrice@brighthillpress.org
Bertha Rogers
Founding Executive Director
Rogers co-founded (with her husband, Ernest M. Fishman) Bright Hill Press in 1992 and has served as executive director since that time. She is responsible for the Word Thursdays reading series, Bright Hill Book Publication, the Literary Workshops for Kids and BHP Internship Programs, and administers the NYS Literary website and map, which Bright Hill developed in partnership with the New York State Council on the Arts. Rogers is a poet whose work has appeared in hundreds of literary journals and in several collections; she also is a translator of Anglo-Saxon poetry; her translation of Beowulf was published in 2000, and her translation of the 95 Riddle-Poems from the Anglo-Saxon Exeter Book is forthcoming. She serves as one of two jurors in the New York State Fair Poetry Contest, and sits on the panel of Empire State Center for the Book Writer Hall of Fame, in its seventh year. She has received several NYSCA and NYFA grants and residency fellowships to the McDowell Colony, the Millay Artists Colony, Jentel, Caldera, Saltonstall, Hedgebrook, and Hawthornden International Writers Residence (Scotland). A master teaching artist, her contributions were included in the new Open the Door: How to Excite Young People About Poetry (the Poetry Foundation and McSweeney's, 2013).  Contact: (w) 607-829-5055 or wordthur@stny.rr.com
BOARD OF DIRECTORS PROFILES 2023
Lynne Kemen
INTERIM PRESIDENT
Lynne Kemen, Franklin, NY (Library and Public Programs) Lynne Kemen, PhD, has backgrounds in theater and literature, in managing a medical practice, teaching psychology as an Associate Professor (adjunct) at Hunter College, and in advising undergraduate students as the Hunter Psychology Department Undergraduate Advisor. She also holds an MA in Theatre Arts and Dramatic Literature from Cornell University and has served several arts organizations, including the McCarter Theatre in Princeton and managing The Phoenix Theatre in NYC. She helped found the Center for Dance Medicine in NYC, which did educational programs and workshops for dancers, and wrote the management handbook for the Off-Off Broadway Alliance. Books, writers, writing and literacy are important to her in part because she wants to share the enjoyment that comes from reading books (usually several at a time). She joined the board in 2016.
Ronald Guichard
VICE-PRESIDENT
Ronald Guichard, Andes, NY (Public Programs, Meals & Entertainment) Since 1982 Ron Guichard has earned a reputation as an active broker in the transition of some of the most luxurious properties and estates sold in the Catskills, achieving outstanding results selling and procuring properties for celebrities and professionals. He has lived in Andes since he was a child and he is an active community member in Andes as well as serving on Bright Hill's board since 2010. His term is up in 2016.
Gayane Torosyan
SECRETARY
Gayane Torosyan holds her Ph.D. (2003) and Masters Professional (1997) degrees from the University of Iowa School of Journalism and Mass Communication. She has worked as a full-time news and public affairs producer and talk show host at the NPR affiliate Iowa Public Radio from 2000 to 2005 after serving as a news and classical music announcer at the same station since her arrival in the United States in 1995. 
In 2005 Torosyan joined the faculty of the State University of New York College at Oneonta's Department of Communication and Media. From 2011 to 2018 she served as an elected department chair. In her capacity of Associate Professor at SUNY Oneonta, Torosyan has taught a number of journalism courses such as Reporting, Audio Documentary Production, Journalism, Advanced Journalism, Mass Media and Culture, Participatory Media, Public Speaking, and Small Group Communication. 
During her prior career as a journalist, Torosyan has produced news and documentary stories for National Public Radio, Native News Network and Latino U.S.A. Her academic work captures a broad scope of topics from journalism education to digital activism. She has attended workshops and received grants to implement curricula based on applied learning and high-impact practices in journalism education. She has been leading her department's student learning outcome assessment program since becoming chair in 2011, and has conducted a number of journalism program reviews at colleges across the State of New York.
Katharine Kreisher
DIRECTOR
Katharine Kreisher, Schenevus, NY (The Word & Image Gallery & Youth Programs) Katharine Kriesher is Professor of Art at Hartwick College. She received her MFA and MA at the University at Albany, State University of New York; her BS at Skidmore College, Saratoga Springs. She teaches courses in documentary photography and alternative processes as well as shot-related printmaking methods. Her autobiographical work centers on highly manipulated photographic images and photo-etchings. She is a founding member of the Round House Press at Hartwick. She has been artist in residence at Millay Colony for the Arts in Austerlitz, NY and has been part of numerous exhibitions including "Hair" and the international traveling exhibit, "Diamonds are Forever: Artist and Writers on Baseball." Her work has been collected by The Center for Photography at Woodstock and Albany Institute of History and Art, among others. Her term is up in 2020.
Vicki R. Davis
DIRECTOR
Vicki R. Davis, Sidney Center, NY (The Word & Image Gallery and Public Programs) Davis, whose recent productions include "The Illiad," "The Threepenny Opera," and "Katie Roche for The Mint's Teresa Deevy Project," has numerous Off Broadway, regional theater and opera performances to her credit. She is the recipient of a TCG/NEA Design Fellowship, a Thomas S. Kenan Institute Breathe Grant, the USITT Design Expo Selection/2010 publication; and she is included in several Who's Who Publications. Davis is a member of United Scenic Artists Local 829. She has been a Bright Hill director since 2007. Her term is up in 2016.
Vicki Whicker
DIRECTOR
Vicki Whicker, Franklin, NY (Bright Hill Programs & Fundraising) is a poet and art photographer, a member of the Los Angeles Poets and Writers Collective and Bright Hill Press Poets. Her poetry has been published by Mo+th, 12 Los Angeles Poets, Big City Mantra, Literary Mama, and others. Her poetry and art photography are featured in the anthology Seeing Things (Woodland Arts Editions, 2020), her poem "Fire Starter" was published in both English and Spanish with La Presa (Embajadoras Press), and her debut collection of poems Caught Before Flight was published by Woodland Arts Editions, all in 2020. 
Her iPhoneography has been the focus of shows on both coasts. She exhibited solo at Cherry Branch Gallery, Bank Gallery, and Lovely Gallery. Recent group shows include exhibits at The Smithy, Cherry Branch Gallery, Art Garage, CAA, Broad Street, The Empty Spaces Project and more. Her show, Bucolia, presented byThe Word and Image Gallery at Bright Hill Press, debuted in 2020.
V.P. Loggins
DIRECTOR
V. P. Loggins is the author of The Wild Severance (2021), winner of the 26 th Annual Bright Hill Press Poetry Book Competition, The Green Cup (2017), winner of the Cider Press Review
Editors' Book Prize, The Fourth Paradise (Editor's Select Poetry Series, Main Street Rag 2010), and Heaven Changes (Pudding House Chapbook Series 2007). His critical work includes one
book on Shakespeare, The Life of Our Design (1992) and Shakespeare's Deliberate Art (co-author 1996). His poems and articles have appeared in The Baltimore Review, Crannog (Ireland),
The Dalhousie Review (Canada), English Journal, The Healing Muse, Memoir, Modern Age, The Moth (Ireland), Poet Lore, Poetry East, Poetry Ireland Review, The Southern Review and Tampa
Review, among other journals. He has taught at several institutions, including Valdosta State University, Purdue University, and the United States Naval Academy. Born in Birmingham, Alabama, and raised in Illinois, he holds a doctorate in English Renaissance Literature and Shakespeare studies. The father of one son and grandfather of two, he lives with his wife Becky in Annapolis, Maryland. To see more,
visit www.vploggins.com.
Fred Schneider
DIRECTOR
Fred Schneider (Cooperstown, NY) earned his B.A. in American Literature from SUNY Geneseo. Following an executive career, Fred now owns the Landmark Inn in Cooperstown with his wife Robin. He is a three-time novelist and a two-time invitee to Colgate University's Novel Intensive. Fred's short fiction and poetry have appeared in Congo Lust, The Atlanta Journal Constitution, Newsday, and Backpacker Magazine as well as Public Radio, where he enjoyed an extended gig as humor essayist for NCPR and where one of his essays, "The Distance of Fathers" was short-listed for national release. His novels, including his latest Last Stop, Ronkonkoma (October 2019) have found much critical success. Fred's current projects include a fourth novel, as well as a play titled, The Glass Eye of James Fenimore Cooper, based on Mark Twain's famous essay on literary offenses, which he also hopes to produce locally in 2021.
Pamela Strother
DIRECTOR
Pam Strother, now retired, was a university teacher and practicing psychotherapist for more than thirty years. Writing poetry since first grade, she has organized poetry programs, readings, and seminars and was a reviewer of poetry collections for Solares Hill, a Key West, FL newspaper. She has been a featured reader at the Robert Frost Poetry Festival, Key West, FL, at Bright Hill Literary Center, Treadwell, NY, and at Community Arts Network of Oneonta, NY, as well as a judge for Poetry Out Loud. In addition, Pam is also a four decades participant and leader of sacred celebrations and women's circles. Her chapbook, Here at the End of the Road: Key West Poems, was published in 2007. In 2017, she was a contributor to Like Light: 25 Years of Poetry and Prose and in 2020, she was a contributor to Seeing Things: An Anthology of Poetry both by Bright Hill Poets and Writers.
COLETTE INEZ
Poet, Educator (Columbia University, Bucknell, Others)
New York, NY
EARL W. ROBERTS III
Writer, Methodist Minister
Drums, PA
BETTY HEAD
Educator, Nonprofit Director
Altamonte, NY
JADE ROTH
Ceo, Sagence Learning Inc.
Washington, Dc and New York City
Brooklyn, NY
MARTIN MITCHELL
Editor
The Same Literary Magazine
New York, NY
RACHEL ROTH
Educator
Columbia Greenhouse Pre-school
New York, NY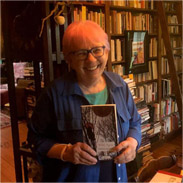 Bertha Rogers
FOUNDING EXECUTIVE DIRECTOR
Bertha Rogers, West Delhi
Rogers co-founded (with her husband, Ernest M. Fishman) Bright Hill Press in 1992 and has served as executive director since that time. She is responsible for the Word Thursdays reading series, Bright Hill Book Publication, the Literary Workshops for Kids and BHP Internship Programs, and administers the NYS Literary website and map, which Bright Hill developed in partnership with the New York State Council on the Arts. Rogers is a poet whose work has appeared in hundreds of literary journals and in several collections; she also is a translator of Anglo-Saxon poetry; her translation of Beowulf was published in 2000, and her translation of the 95 Riddle-Poems from the Anglo-Saxon Exeter Book is forthcoming. She has received several NYSCA and NYFA grants and residency fellowships to the McDowell Colony, the Millay Artists Colony, Jentel, Caldera, Saltonstall, Hedgebrook, and Hawthornden International Writers Residence (Scotland). A master teaching artist, her contributions were included in the new Open the Door: How to Excite Young People About Poetry (the Poetry Foundation and McSweeney's, 2013). Contact: (w) 607-829-5055 or bertha@brighthillpress.org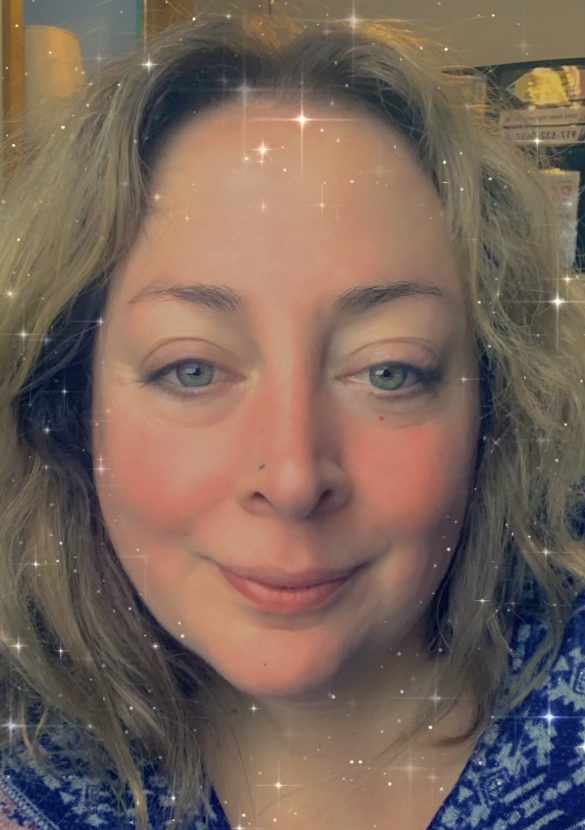 Beatrice Georgalidis
EXECUTIVE DIRECTOR
Beatrice Georgalidis has worked in film and television for ten years, producing commercials, films and live-television events for Sundance Channel, MTV, VH1, and more. She is a writer educated at Tisch School of the Arts Dramatic Writing Program, and has a Bachelor of Science Degree in Mass Communications from SUNY Oneonta where she was honored as Best and Brightest in 2014. Her professional history includes managing The Players Club, a private estate on Gramercy Park where she produced large-scale events for clients like George Clooney and Disney, as well as extensive work in Los Angeles with best-selling author and congressional candidate Marianne Williamson, and the post-production team at USA Films. While at Cornell Medical College for a four-year term, she served as Administrative Coordinator of the Department of Microbiology and Immunology (on the forefront of AIDS, cancer and tuberculosis research), where her career as a grant writer began. In 2012, she founded her multidisciplinary company Certain Grants. She has worked with over forty clients writing grants, producing advertising and fundraising campaigns, and creating digital content. She has been published in Oprah magazine and is the recipient of numerous writing awards. Contact: (w) 607-829-5055;  or beatrice@brighthillpress.org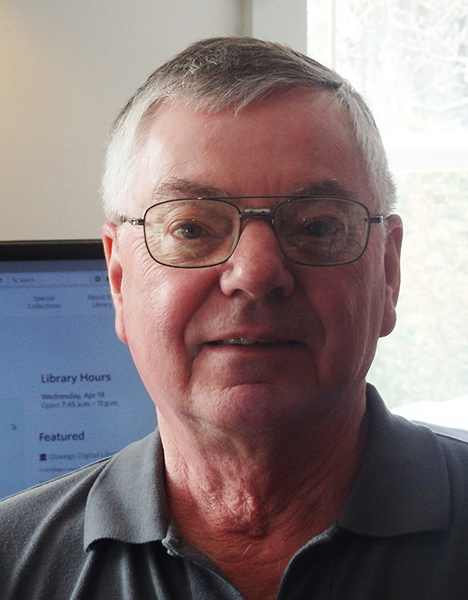 Lawrence E. Shaw
ADMINISTRATIVE ASSISTANT
Lawrence E. Shaw, Delhi, NY
Shaw has worked at Bright Hill as Administrative and Editorial Assistant, as well as NYS LitTree Administrative Assistant, for 12 and one-half years. He formerly was an accountant for the Delhi Telephone Company (30 years). He is active in the community, volunteering for the Food Pantry and at his church; and he also belongs to a horseshoe-pitching association and a bowling league. When on vacation, he likes to travel. Contact: (w) 607-829-5055 or larry@nyslittree.org
Interns
Meet Isabel Streeter, Recipient of the 2019 Robert Sloss Apprenticeship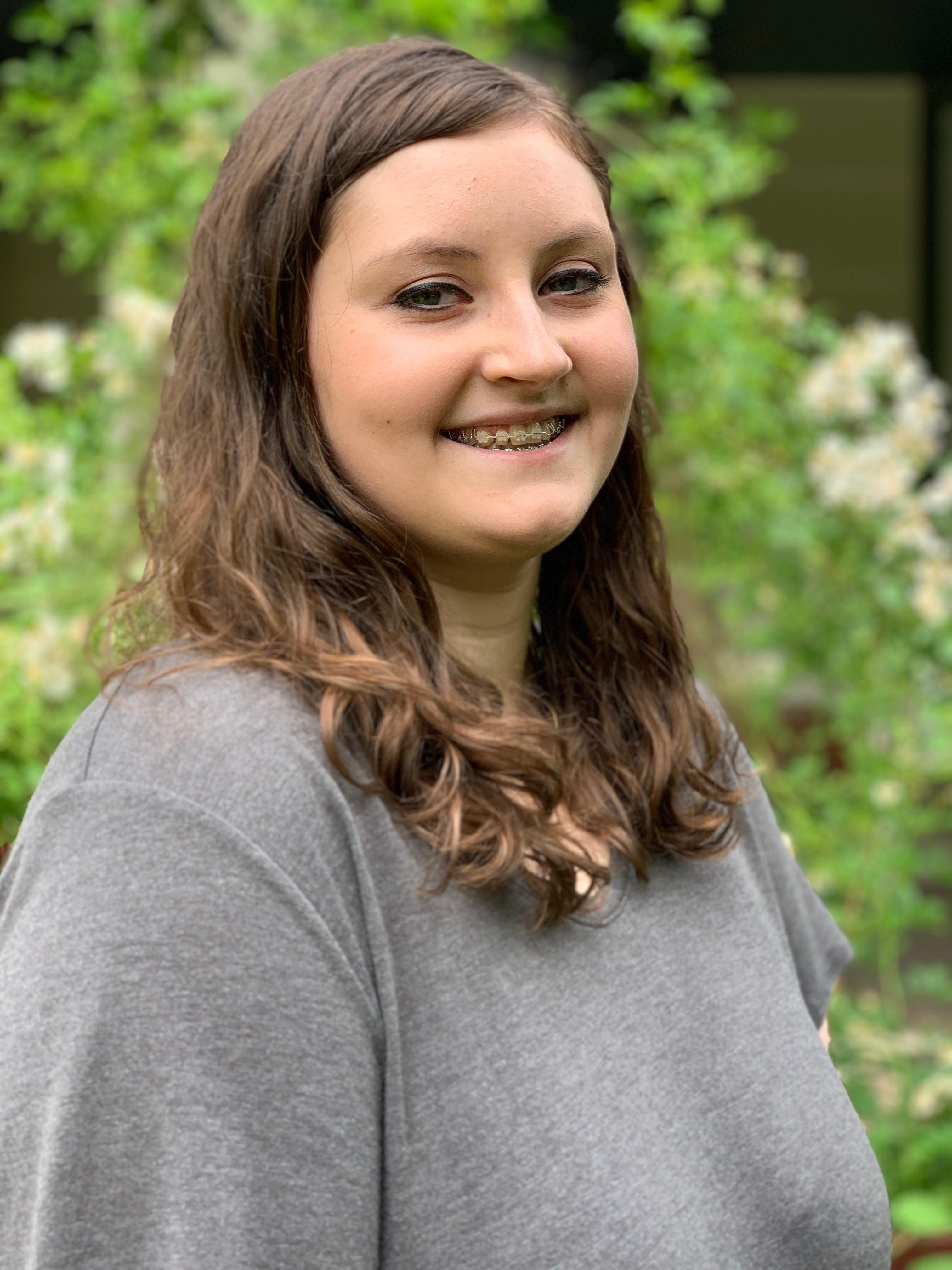 Born and raised in upstate New York where she completed volunteer work in Cooperstown and served as student council president of her high school in Oneonta, Isabel is currently completing her junior year at Hartwick College, a liberal arts university in Oneonta, New York, where she will be graduating in May of 2020 with a Bachelor of Arts in English and a minor in anthropology. During her sophomore year at Hartwick College, Isabel was awarded the Joan B. Gratz Prize for her accomplishments and interest in literature, and more recently, during her junior year, she was awarded the high honor of being named a Faculty Scholar by the Hartwick College English Department. Because of her academic achievements and high GPA, Isabel has also been inducted into Hartwick College's chapter of The National Society of Leadership and Success and Hartwick College's chapter of the Sigma Tau Delta International Honor Society. During her senior year, Isabel expects to act as vice president for the college's Sigma Tau Delta Society executive board while she writes her senior thesis on Irish poetry. Upon graduation, Isabel intends to remain in upstate New York and find an avenue through which she may use her knowledge and experience to serve the area.
Bright Hill Literary Center Interns
Since 1996
College, High-School, and Middle-School Interns at Bright Hill Press & Literary Center Since 1996
1996

Daniel Shapley, NY (Hartwick College)

1997

Scot Alan Slaby (Hartwick College)

1998

Brittney Schoonebeek, Delhi (Delhi CS); Richard Stinson, South Kortright, NY (Bennington College)

1999

Brittney Schoonebeek, Delhi, NY (SUNY Geneseo); Lindsay Silverman, MA (Hartwick College); Danielle Hauptfleish, Franklin, NY (Delhi CS)

2000

Kristina Plath, Delhi, NY (Delhi CS); Brittney Schoonebeek, Delhi, NY (SUNY Geneseo)

2001

Brittney Schoonebeek, Delhi, NY (SUNY Geneseo); Jesse Hilson, Delhi, NY; Amber Cooke, Delhi, NY (Delhi CS); Laura Crowley, Treadwell, NY (Delhi CS); Michelle Naujeck, Milford, NY (Milford CS); Jenna Whittaker, Delhi, NY (Delhi CS); Elizabeth Putrycz, Franklin, NY (Delhi CS); Anna Harty, Treadwell, NY (Delhi CS)

2002

Brittney Schoonebeek, Delhi, NY (SUNY Geneseo); Jesse Hilson, Delhi, NY

2003

Jesse Hilson, Delhi, NY; Michelle Naujeck, Milford, NY; Brittney Schoonebeek, Delhi, NY (SUNY Geneseo)

2004

Cassie Gearheart, Delhi, NY; Dann Schoonebeek, Delhi, NY (Delhi CS)

2005

Sabia Rigby, Jefferson, NY (Wells College); Rebecca Palmer, NY; Jeremy Carmody, Treadwell, NY (Delhi CS); Becky Campbell, Delhi, NY

2006

Heidi Reutenik, Delhi (Delhi CS); Caitlin Thomas, Treadwell, NY (Delhi CS); Kristin Jacques, NY (Wells College)

2007

Heidi Reutenik, Delhi (Delhi CS); Elizabeth Putrycz, Treadwell, NY (Delhi CS); Meghan Francisco, Laurens, NY (Elmira College); Jami Kirby, Delhi, NY; Caitlin Thomas, Treadwell, NY (SUNY Oneonta)

2008

Heidi Reutenik, Delhi (Delhi CS); Erin Francisco, Laurens, NY (Elmira College, NY); Elizabeth Putrycz, Treadwell, NY

2009

Heidi Reutenik, Delhi (Delhi CS); Erin Francisco, Laurens, NY (Elmira College, NY); Will Henry, Jefferson, NY (Alfred U); Elizabeth Moon, Treadwell, NY (Delhi CS); Helena Davis, East Meredith, NY; Lisa Fischetti, Treadwell, NY (Delhi CS); Amber Telian, Delhi (Delhi CS)

2010

Clara Barnhart, Unadilla, NY (Champlain College, VT); Christine Smith, Long Island, NY (SUNY Oneonta); Mary Ann Rojas, Queens, NY (SUNY Oneonta); Jessica Bailey, Long Island, NY (SUNY Oneonta); Elizabeth Moon, Treadwell, NY (Delhi CS); Jami Kirby, Delhi, NY; Bronwyn Edwards, Brooklyn & Callicoon, NY (Brooklyn Friends School)

2011

Elizabeth Moon, Treadwell, NY (Delhi CS); Emily Vivyan, NY (SUNY Oneonta); Margret Beditz, NY(SUNY Oneonta); Delilah Silberman, Brooklyn, NY (Manhattan Country School); Marion Standefer, Philadelphia, PA & Hamden, NY (Friends School)

2012

Emma Moon, Treadwell (Delhi CS); Bronwyn Edwards, Brooklyn & Callicoon, NY (Brooklyn Friends School); Delilah Silberman, Brooklyn, NY (School of International Studies); Heidi Rutetenik, Delhi (SUNY Delhi); Meredith Hammerslag, Walton (Walton CS); Allison Sheffler, Oneonta (SUNY Oneonta)

2013

Meredith Hammerslag, Walton (Walton CS); Marline Cammer, Roxbury (SUNY Oneonta); Delilah Silberman, Brooklyn (School of International Studies); Peter Lemakos, Treadwell (Delhi CS)

2014

Kyrra Howard, Delhi (Nazareth College, Rochester, NY); Elizabeth Putrycz, Treadwell, NY; Meredith Hammerslag (Walton CS), Walton, NY; Bronwyn Edwards (Brooklyn Friends), Brooklyn, NY; Delilah Silberman (Fiorello LaGuardia HS of Music & the Arts), Brooklyn, NY; Felix Marner (Franklin CS), Franklin, NY; Cain Rodriguez (Franklin CS), Franklin, NY; Violet Silberman (MS 51) Brooklyn, NY; Ed Therese (Packer School) Brooklyn, NY

2015

Sierra Sangetti Daniels, Oneonta (SUNY Oneonta, Oneonta, NY); Hannah Reilly (SUNY Oneonta, Oneonta, NY); Brandon Belaski (SUNY Oneonta, Oneonta, NY)

2016

Sierra Sangetti Daniels, Oneonta (SUNY Oneonta, Oneonta, NY)

2017

Sierra Sangetti Daniels, Oneonta (SUNY Oneonta, Oneonta, NY); Otelia Blu, Hartwick (Hartwick College, Oneonta, NY); Michelle Fisher, Lake George, (SUNY Oneonta, Oneonta, NY)

2018

Sophie Bille, Voorheesville (SUNY Oneonta, Oneonta, NY); Michelle Fisher, Lake George, (SUNY Oneonta, Oneonta, NY)

2019

Sophie Bille, Voorheesville (SUNY Oneonta, Oneonta, NY); Isabel Streeter, Cooperstown (Hartwick College, Oneonta, NY)

2020

Sophie Bille, Voorheesville (SUNY Oneonta, Oneonta, NY)

2021

Dominique Wheeler (Hartwick College)

2022

Maggie McCann (SUNY Oneonta), Nate Parsons (SUNY Oneonta)

2023

Sofia Escobar (Hartwick, NY)