WORD THURSDAYS FEATURING PHIL MEMMER AND HAZEL SIMMONS-MCDONALD
February 20 @ 8:00 am

-

5:00 pm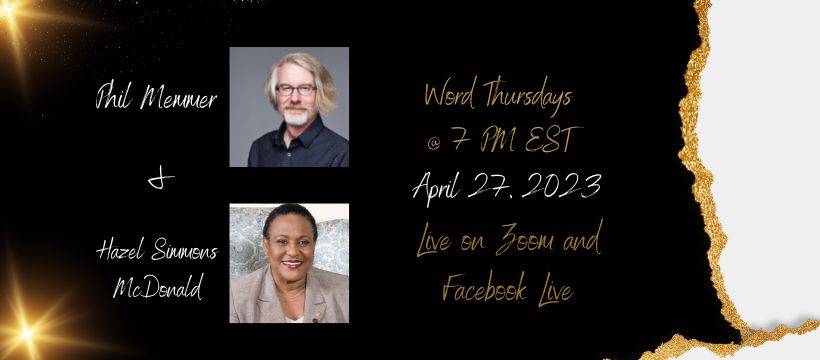 PHIL MEMMER
Philip Memmer is the author of six  books of poems, most recently Cairns (Lost Horse Press, 2022). His poems have appeared in such journals as Poetry, Poetry Northwest, Poetry London, and Mid-American Review, in many anthologies, in the Library of Congress's "Poetry 180" website, and in Ted Kooser's "American Life in Poetry" column. He lives in upstate New York, where he serves as Executive Director of the YMCA of Central New York's Arts Branch, where he founded the Downtown Writers Center in 2001. He is the recipient of a 2023 Individual Artist Grant from the New York State Council on the Arts, serves as Publisher at Tiger Bark Press, and teaches creative writing at Hamilton College.
HAZEL SIMMONS-MCDONALD
Hazel Simmons-McDonald is the former Pro-Vice Chancellor and Principal of the University of the West Indies Open Campus, a post which she held from August 1, 2007 until July 31, 2014 when she retired. Prior to that, she served as Head of the Department of Language, Linguistics and Literature, Deputy Dean of Outreach, Deputy Dean – Planning, and Dean of the Faculty of Humanities and Education at the Cave Hill Campus.  She also served as the Co-Chair of the UWI Cultural Studies Initiative.  She is a UWI Professor Emerita and her field of specialization is Applied Linguistics.  
Her research interests include second language acquisition, the development of literacy by Creole and Creole Influenced Vernacular speakers and vernacular literacy within the formal context.  She served for several years as the Secretary-Treasurer of the Society for Caribbean Linguistics, as its Vice President for one year, and a two-year stint as President of the Society from August 2008. Her publications include articles and book chapters on second language acquisition, vernacular literacy, language education policy, literacy development, language and culture, and open and distance learning.  She has also co-edited books on Creole influenced vernaculars in education. She collaborates on writing French Creole instructional texts for native speakers of Antillean French Creole and has also published several English language texts for use at secondary and tertiary levels.  She was a member of the International Council of Distance Education Standing Conference of Presidents (ICDE-SCOP 2008- 2014) for which she led workshops and presented papers on lifelong learning and selected aspects of Distance Education. She was also an honorary advisor of the Commonwealth of Learning from 2009-2014.  
She writes fiction and poetry as a hobby and has published poems in several journals, including The Malahat Review, The Literary Review, The Atlanta Review, Poui, Pathways, Calabash, BIM and a few selected anthologies.  Her short fiction has been published in BIM, Poui and  Thicker than Water Peekash Press Anthology (2018). Her first collection of poems, Silk Cotton and other trees was published by Ian Randle Press in 2004, and her first collection of short fiction, Shabine and Other Stories, was published by the University of the West Indies Press in December 2021.
She currently undertakes assignments occasionally as an education consultant and has worked on projects for the ECERP/CIDA, UWI/DFATD Legal Impact Project, CXC, the OECS Early Literacy Project and the Erdiston Teachers' College Literacy Diagnostic and Early Intervention training programme, and the Universalia Management Group Ltd. for the Review of CDB's Education Policy and Strategy.
She was awarded the Order of the British Empire (OBE) for her contribution to education in 2012; she received an award for outstanding contribution to Education from the World Education Congress in 2014 and was given an award for Outstanding Contribution to Linguistics & Multidisciplinary Education by the Institute for Gender and Development Studies on the occasion of the 70th Anniversary of the UWI in February 2019. 
Link to RSVP: Word Thursdays Featuring Phil Memmer and Hazel Simmons-McDonald | Facebook