2021 Adult Workshop Offerings
THANK YOU TO OUR WORKSHOP PARTICIPANTS, SPONSORS AND DONORS FOR MAKING OUR 2021 SEASON UNFORGETTABLE! SEE YOU IN 2022 FOR MORE NEW AND EXCITING LITERARY ARTS PROGRAMS!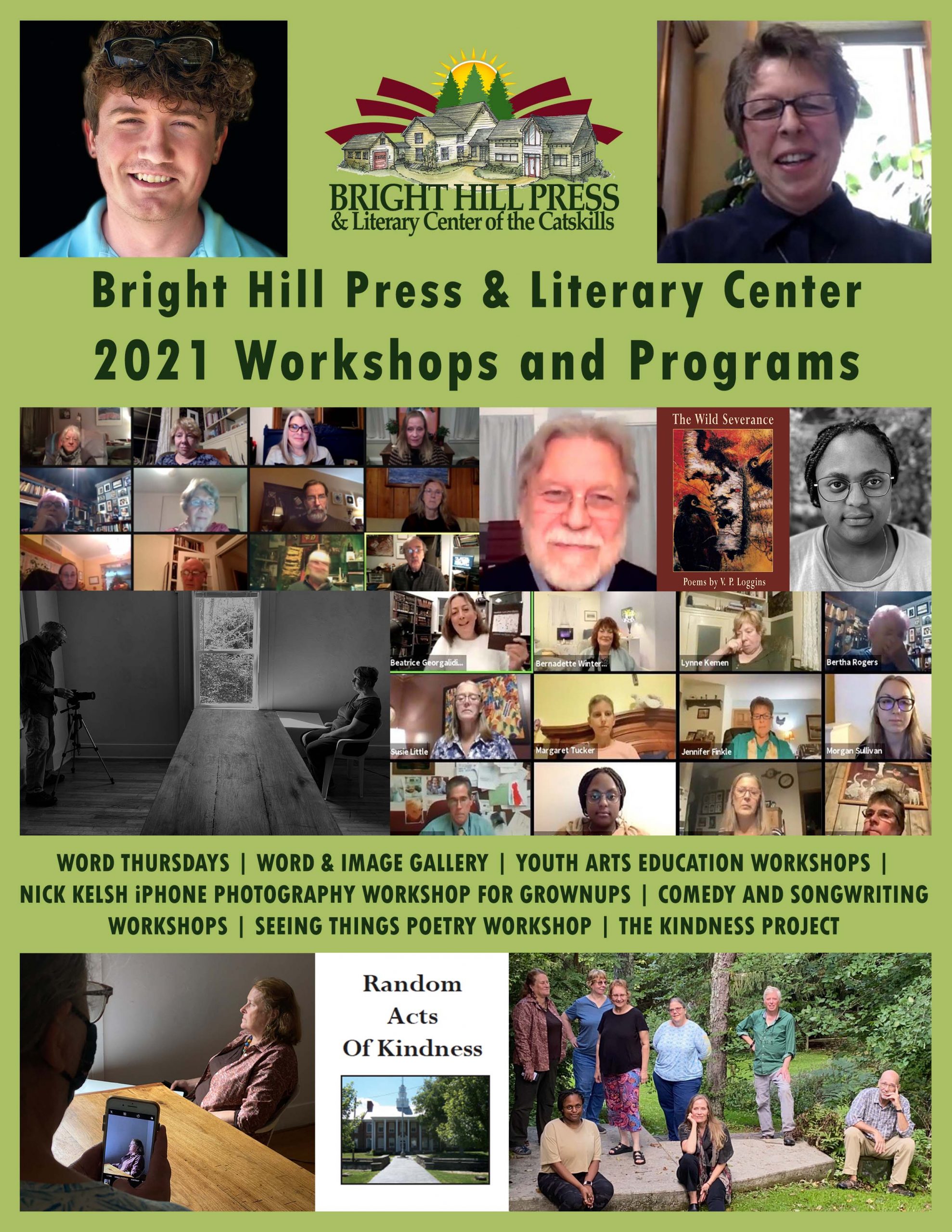 The Nick Kelsh iPhone Photography Workshop…for Grown Ups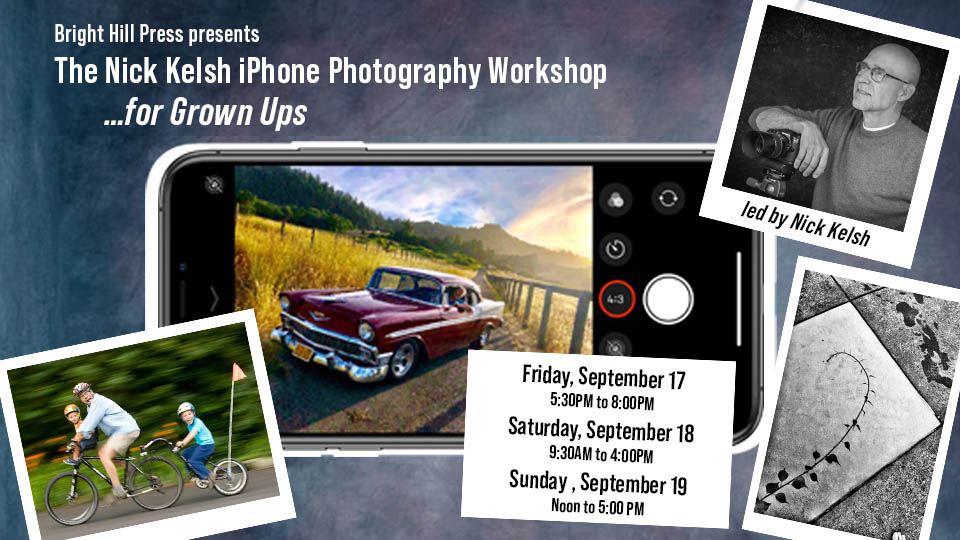 Workshops Sessions: 
Friday, September 17 / 5:30PM to 8:00PM
Reception, opening remarks, preparation for all-day Saturday workshop 
Saturday, September 18 /  9:30AM to 4:00PM
Shoot, edit, group instructional. Curriculum will be reviewed Friday evening
Sunday , September 19 / Noon to 5:00 PM
One-on-ones scheduled with Nick
Workshop Description:

We will talk about and practice composition, lighting, exposure, group shots, portraits, storytelling, all important editing and the very best way to share your photographs, which after all, is what this is all about.

Also, the iPhone is probably the most fun camera ever invented which is one of the reasons that this workshop is so much, well, FUN!

Thirty minute one-on-one sessions with Nick: these are by appointment only – Nick will talk about anything related to photography you wish to further explore.

And yes, you can bring your big girl / big boy camera and spend the whole time talking about f-stops, shutter speeds, and ISO settings. If there's a better way to learn the basics I haven't seen it, he said modestly.

Very simply, you will be a better photographer at the end of this weekend.

For more info: https://brighthillpress.org/adult-programming/

Calendar Event: https://brighthillpress.org/event/nickkelshforgrownups

Ticket Link: https://brighthillpress.org/product/nickkelshforgrownups/

FB Event: https://fb.me/e/1HSpL0eez

Registration Fee:

Early Bird Fee: $349

Book between August 2 and August 15

Regular Fee: $449

Book after August 15

TO REGISTER, purchase tickets here and email your info to info@brighthillpress.org

About Workshop Instructor:

Nick Kelsh is a renowned photographer and  author of nine books, including the  bestselling Naked Babies and Siblings (co-authored  with Pulitzer Prize winning writer, Anna Quindlen)  and three how-to books for amateurs, How to Photograph Your Baby, How to Photograph Your  Family and How to Photograph Your Life. He has  appeared on Oprah and The Today Show, and has  been featured in Time, Life, Newsweek, National  Geographic, The New Yorker, Forbes, and Fortune. He illustrated Rachel Carson's classic The  Sense of Wonder, and wrote and photographed two  gift books: How to be Santa Claus and How to be  Dad. He also wrote the popular column Great Shots for Creative Memories' Lasting Moments magazine.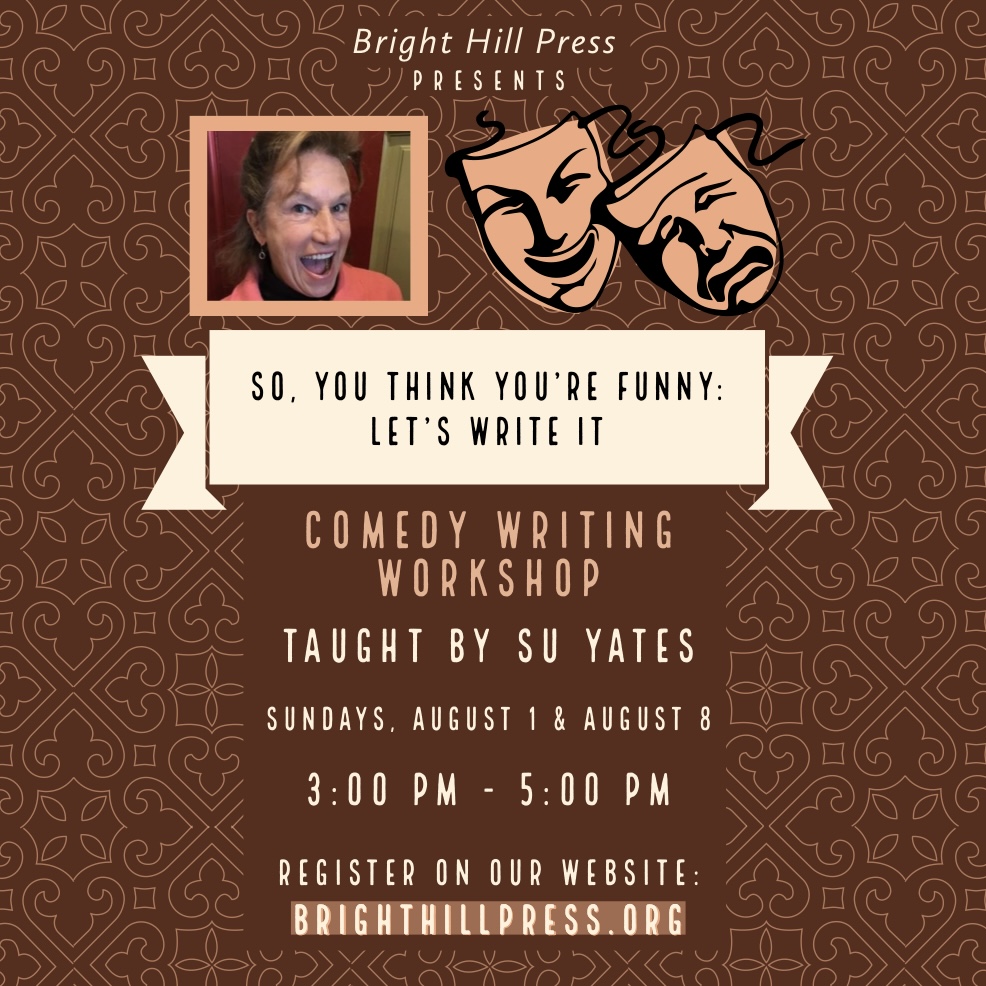 "So, You Think You're Funny: Let's Write It"
COMEDY WRITING WORKSHOP LED BY SU YATES
Workshop Sessions:
Sundays, August 1 & August 8, 3:00 – 5:00 PM
Reception:
Sunday, August 8, after workshop
Description:

This comedy writing workshop, taught by Su Yates, will cover topics such as: a brief history of comedy, the different types of comedy writing with examples of each type (performed live with social media), and breaking down how to write comedy (choosing a premise, different styles for different types, keeping it interesting and to the point). Assignments will be written in class and have a week to revise and bring back to the class.

After the workshop on August 8, there will be a staged reading of students and a reception, "Sunday Brunch Laughter." The reception will take place outdoors in Bright Hill's beautiful garden with a microphone.

Workshop Fee: $20

Open to all ages

To register, email Bright Hill Press at info@brighthillpress.org and purchase ticket below.

Su Yates was born in Buffalo, N.Y., but managed to overcome that adversity to rise to stellar heights of mediocrity in writing, performing, dancing and comedy. She has appeared in comedy clubs around the country first doing improvisational comedy and then stand-up comedy. She began her underwhelming career by writing and performing solo and ensemble comedy sketch pieces, her preferred comedy style. More recently, Su has been writing and performing stories and Spoken Word pieces.  She is working on her autobiography, "Memoirs of an Insignificant Baby Boomer." She performed improv and stand-up comedy in Honolulu, Hawaii, for several years and in another international hub, the Oneonta and Delaware County area of New York State. She has attempted to dazzle crowds in Palm Springs, Berkeley and Bishop, California; Sarasota, Florida; Portland, Oregon and a slew of misbegotten locations. Su has also studied and performed Brazilian dance, clog dancing, Irish dancing, taiko drumming and hula. In addition to a fitness regimen, this allowed her to develop a physical style of comedy embellished by accents and physical characteristics from different cultures. Su attributes much of her skill to studying character development with Lanny Harrison of West Kortright Centre. Incredibly, Su has a master's degree in Public Health and a Bachelor's degree in Community Health Education. She has worked seriously in this field in Hawaii and New York.  Most recently, she is developing her own grant writing business.

Seeing Things: An Intensive Poetry Workshop with Robert Bensen
March 8, 2021 – May, 10, 2021
Description:

Poetry enables us to "see things": to see what is and what is not, in the domains of the senses and imagination. We develop our practice of writing by drawing upon both. Workshop participants send one or two new poems each week for the group to consider thoughtfully and respectfully with comments that encourage revision. In theory and practice, the workshop serves as an articulate, responsive audience for the poet, who learns from the members' responses to the poem.  We also write in-session with various prompts and group activities. Since all artists benefit by knowing the history and achievements of their art, we read poets from many time periods and cultures.  We read poets with a range of subjects and forms as models for our own practice. We exchange ideas about publishing opportunities in online and print environments. Our agenda can be adjusted depending on the experience and preferences of the poets.  While we met in-person for the first two 10-week sessions, we have met since March 2020 online. We also sponsor "Tiny Desk Readings," which features poets outside the workshop whom we invite to read for 20 minutes at the beginning of a session. The workshop is conducted by Robert Bensen.

Offered weekly through Zoom Meetings
Interim Critique Workshop with Pam Strother
January 4, 2021 – February 22, 2021
Description:

Composed of participants in the Seeing Things Workshops, the Interim Critique Group meets weekly for 8 to 10 weeks in between sessions of the workshops.  The group enables poets to read their work to each other and hear constructive feedback. At least once during each of the 8 -10 week terms, an established poet is invited to present a "Tiny Desk" of their work and to talk about their writing process.  

Offered weekly through Zoom Meetings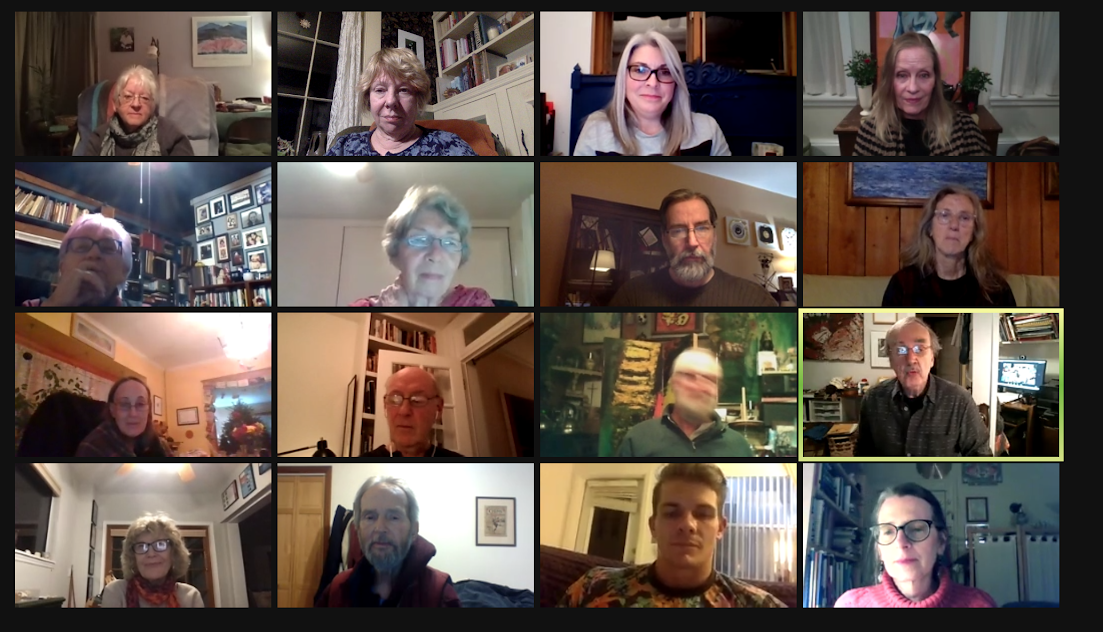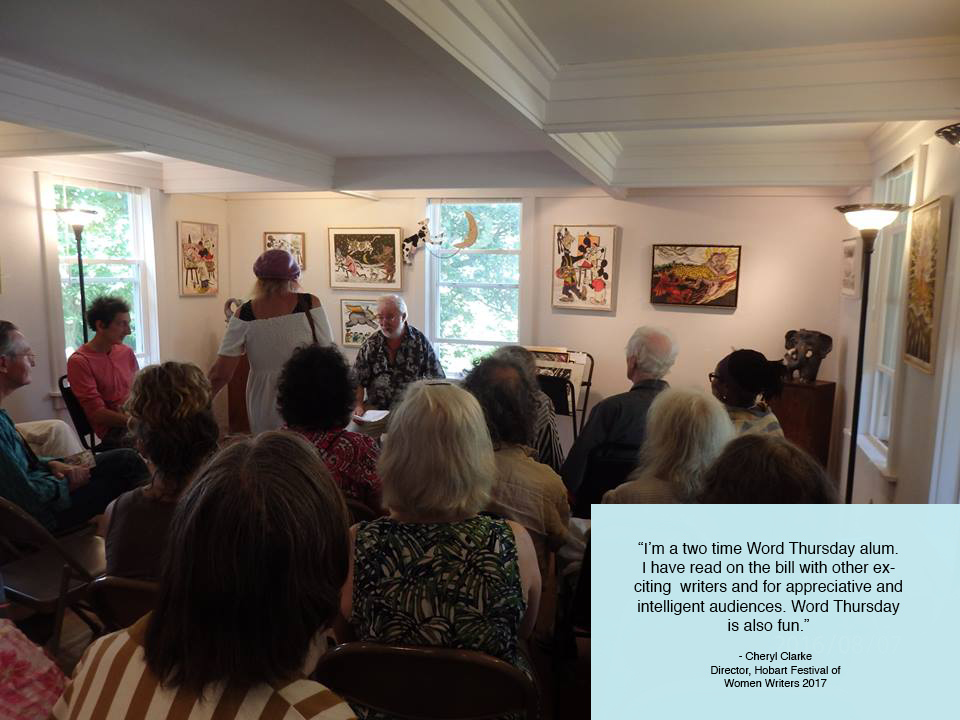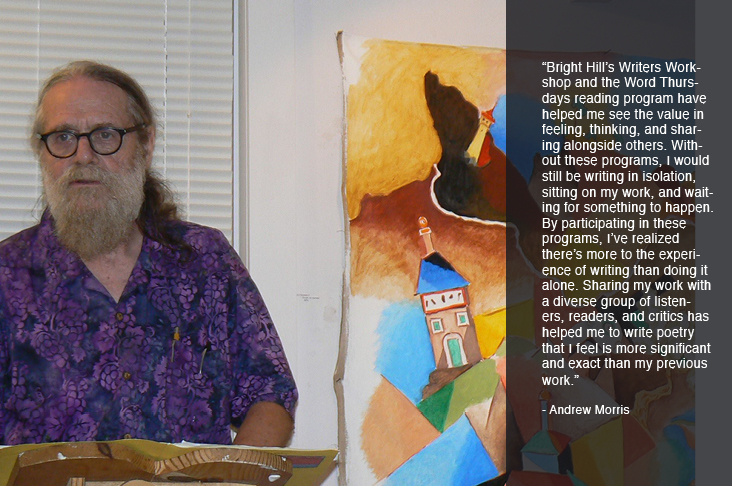 Bright Hill Press Celebrating 26 Years