The Stagecoach Run Spotlight Show at Bright Hill
July 2 @ 9:00 am

-

5:00 pm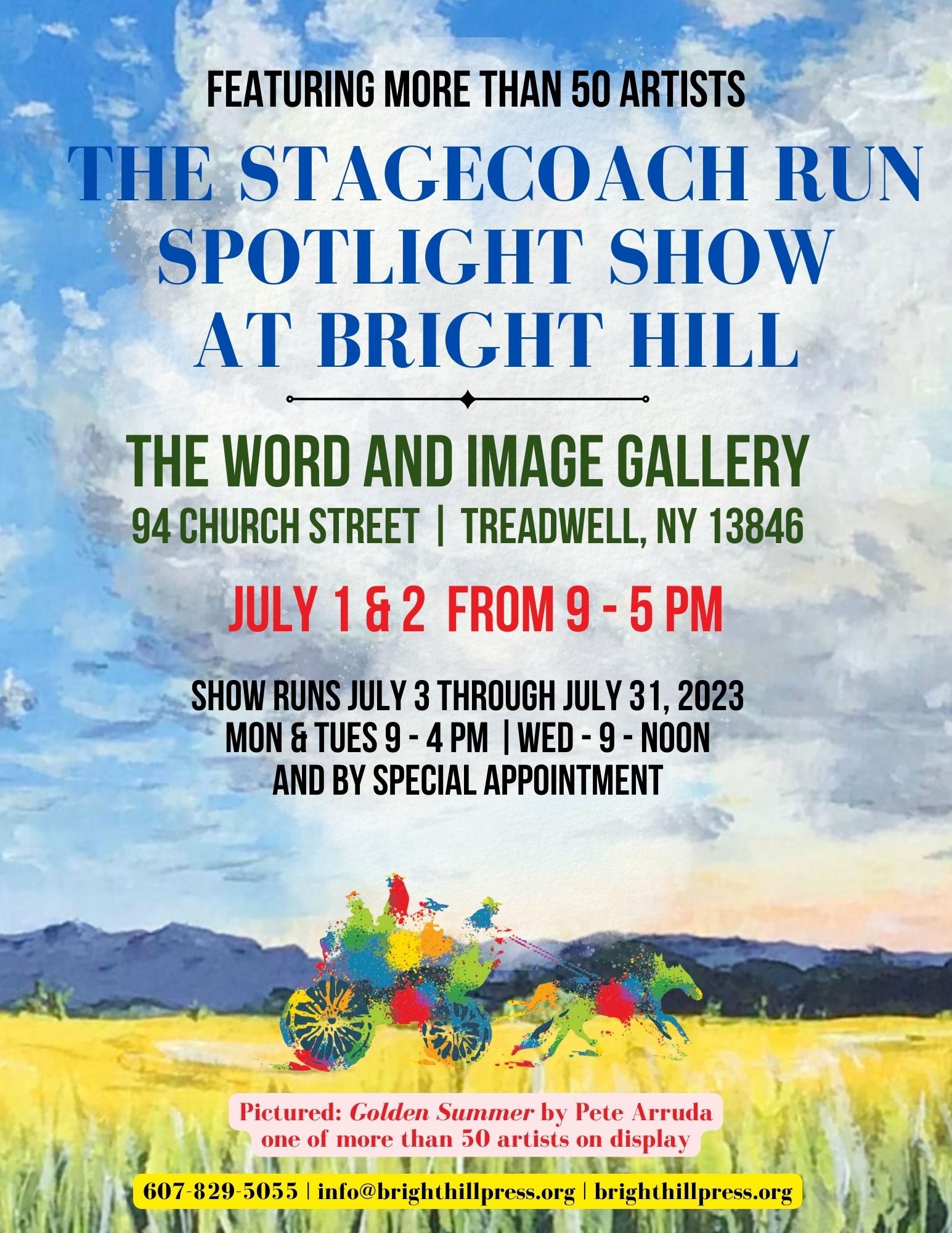 The Stagecoach Run Spotlight Show at Bright Hill
94 Church Street
Treadwell, NY 13846
July 1 & 2
9 – 5 PM
PLEASE NOTE: Franklin Central School students will not be presenting work at the 25th anniversary Stagecoach Run Art Festival.
The Word and Image Gallery at Bright Hill Literary Center proudly presents The Stagecoach Run Spotlight Show at Bright Hill, on July 1 & 2 from 9 – 5 PM at 94 Church Street, Treadwell, NY, 13846.
The show will remain open through July 31, 2023. Viewing hours in July are 9 – 4 PM on Mondays and Tuesdays, 9 – noon on Wednesdays, and by special appointment.
The Stagecoach Run Art Festival is a free, self-guided open studio and gallery tour of some of the area's best artists, performers and makers.
Bright Hill is honored to host the Stagecoach Run Spotlight Show featuring work by 54 artists, a wonderful first stop on your tour of a total 24 venues to view the plethora and variety of works by local artists, a great way to plan your day of art viewing and studio hopping.
All art is for sale! A portion of proceeds supports Bright Hill's public programs.
Refreshments will be served, and rest rooms will be available for gallery attendees!
About Stagecoach Run Art Festival
The Catskills' biggest self-guided art tour celebrates its 25th festival, after a hiatus due to the pandemic.
The annual, free, self-guided tour of artists' studios and galleries in this western Catskills community delivers great art experiences to crowds of spectators and collectors from all over the state.
2019's festival had 70+ participating artists at 25 venues and more than five hundred visitors over two days.
Begun in 1995 by fifteen Treadwell artists, the festival's original mission was to spotlight artists and creatives living and working in the region. The festival aims to use an open-studio model to strengthen (sometimes forge) relationships between creatives and their neighbors in an authentic way, while simultaneously demonstrating the undeniable financial and cultural value that artists can add to a community. Given the changes this region has undergone over the last few years, this mission seems even more relevant and important.
Participation in the Festival is by invitation only, ensuring the work is both diverse and of the highest caliber.
We look forward to seeing you at this historic event!
To view more information about participating artists please click here:
Artists 2023 – Stagecoach Run Art Festival
To download the 2023 festival map click here: