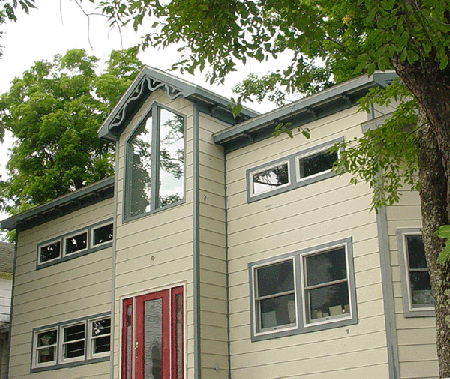 Bright Hill's Community Library & Internet Wing is Free and Available to the People of Treadwell, Franklin, and Beyond
Bright Hill Community Library & Internet Wing! Thousands of volumes of literary journals, literary prose & poetry, literary criticism & biography, theater, reference, art, and children's books are available for reading & research (noncirculating, for the time being). Wireless Internet access is available. Hours are 10 AM – 4 PM, Monday & Tuesday, & 9 AM – NOON, Wednesdays. Call 607-829-5055 or e-mail wordthur@stny.rr.com for further details.

CLICK HERE TO ACCESS OUR ONLINE CATALOG OF LIBRARY BOOKS! (http://bhc.scoolaid.net/bin/home)

NEW IN THE LIBRARY & INTERNET WING!

Bright Hill Community Library recently joined the South Central Regional Library Council. Board member Karen Detert is Library Chair and is working with the council so that our library is fully catalogued, with much of it circulating (the vast collection of literary journals from the Quarterly Review of Literature's library will be available for in-library and online research only, as will some of the many art books from the collection of Doris Vladimiroff and given in her memory). Much of our collection will be accessible through online library systems and thus available to many more patrons than could possibly come to Treadwell. Karen will be working with Bright Hill interns as well as volunteers (if you are interested in volunteering for this important work please call 607-829-5055).


Karen Detert, an advocate of public education, served as the Executive Director of the Northwestern Ohio Education Association for 11 years. After moving to West Delhi, she was employed by the Hartwick Humanities in Management Institute, an institute within Hartwick College that teaches management skills using leadership models form classic literature and firms. Karen has a Bachelor of Philosophy from Wayne State University, Detroit; and a Masters in Business Administration from Bowling Green State University, Bowling Green, Ohio. An avid reader of prose and poetry, Karen joined Bright Hill's board in 2009.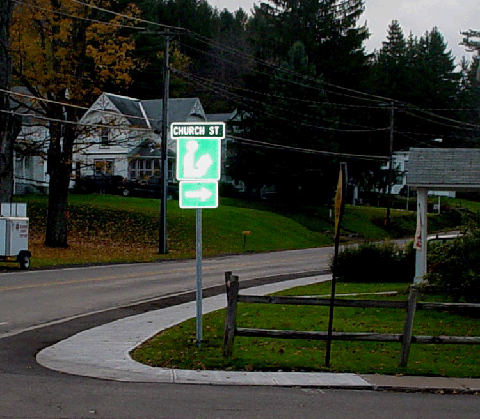 In 2004, Bright HIll Center realized a dream by building the new Bright Hill Center Library and Internet Wing. The Wing, funded, in part, by the New York State Council on the Arts Capital Program, is also funded by the A. Lindsay and Olive B. O'Connor Foundation, the Walter Rich Charitable Foundation, the Otis A. Thompson Foundation, and Bright Hill's members and friends. In November, 2004, poets and writers and friends helped us celebrate our grand opening. The library's collections include literary prose and poetry, books on art, reference books, and a children's section. Among the collections is the Quarterly Review of Literature Collection of Literary Journals, dating back to the 1940s and often including complete sets of magazines; and the Doris Vladimiroff Collection of literary prose and poetry and books on art; as well as many individually-donated books.
The library includes a tower loft for children, for reading and playing quiet board games; it has already proved a hit for children who participate in our literary workshops and who just come to read.
The library will not be a circulating library for at least two years, and some collections will be for study and archival use only. Call 607-829-5055 for more information.
If you would like to contribute books or funds to our beautiful new library please send your donation to Bright Hill Center, POB 193, Treadwell, NY 13846. For more information, contact the Center at wordthur@stny.rr.com. or call 607-829-5055.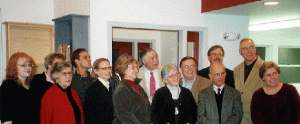 GRAND OPENING, NOVEMBER 2004, BRIGHT HILL COMMUNITY
LIBRARY & INTERNET WING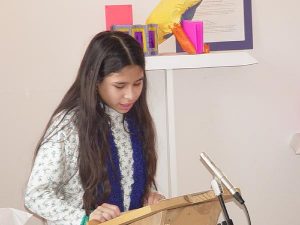 Felicia Segelken, reading from her Workshop Writing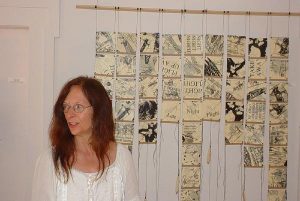 Nancy Callahan, winner of the 2003 BHP Juried Book Arts Award